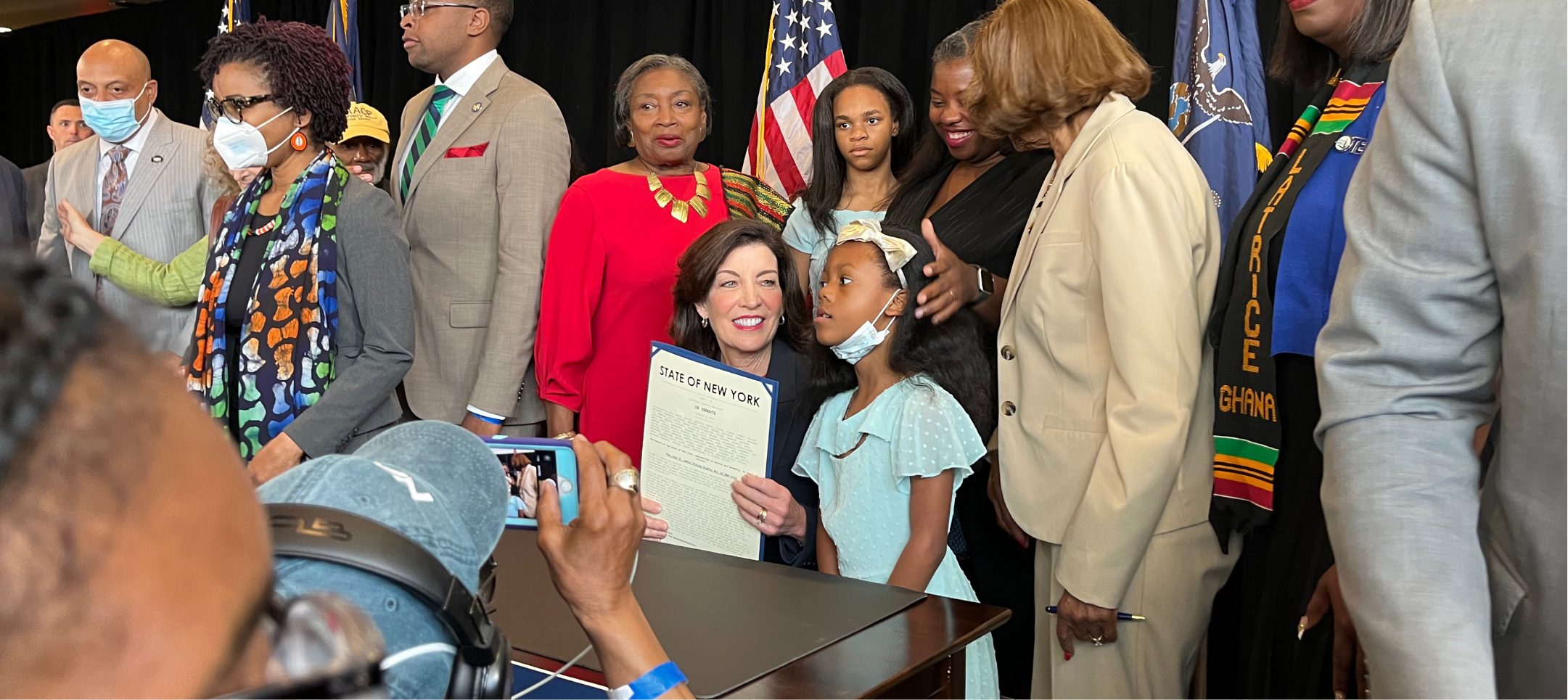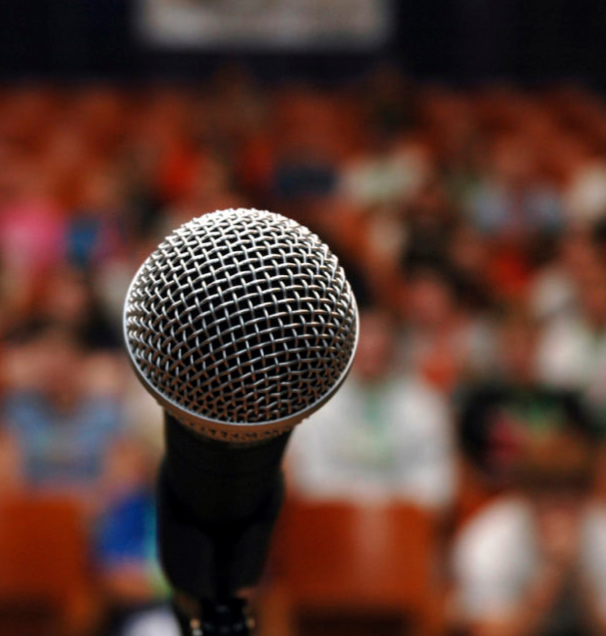 The League of Women Voters of the City of New York has trained, non-partisan League representatives who provide guidance on voting and advocacy.
Through unbiased presentations, League members reach out to citizens to participate in elections. They touch upon information on ballot measures, the importance of voting, government policies, and have broad conversations about other topics such as:
Education
Campaign Finance Reform
Environmental Action
Affordable Housing
Women's Issues
Presentations last for 45 minutes to an hour, allowing time for speakers to discuss issues and answer questions.
Speakers are available for appearances up to five weeks before election day. Available weekdays and weekends.
Presentation Information
League representatives travel throughout all five boroughs.
Groups of 15 or more are eligible to take advantage of these informative discussions. Groups of fewer than 15 people are welcome to attend a presentation with another group.
Introductions to advocacy can be designed for first-time voters. Clear instructions of locations and directions are essential for League speakers to attend events easily and timely.
To request a LWVNYC speaker to present at an event for your organization, please contact [email protected]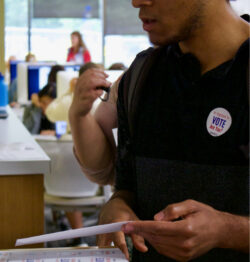 Civic Engagement Opportunities
Research indicates that nearly two-thirds of adults said they would be proud to work for an employer that advocated for safe and free elections.*
Moreover, 46% of all adults would look more favorably on a company assisting in voter registration and Get Out the Vote efforts. *
The League of Women Voters of the City of New York makes it easy for corporate employees to gain civic knowledge and participate in community activities. Choose a topic from the list of Speakers Programs and identify an activity from the Employee Volunteer Activity list to create a bespoke program for your employees.
Speakers Programs
The League's speakers will engage your employees with a 30-minute presentation on a current topic that they can then share with their communities.
Employee Volunteer Activities
The League provides guidance, training and supplies for an engaging, impactful hands-on activity.
Employee Training Programs
Employees want to be more involved? Schedule an onsite training to prepare them to support civic engagement throughout the year.
Charitable Contribution We rely on the generosity of public-spirited businesses. individuals, and organizations to fulfill our mission of civic engagement throughout our city. To support these efforts, the League asks for a suggested donation of $5,000.
In recognition of your contribution, as a corporate partner your company will be highlighted on our website, in public programming and social media channels reaching over 300,000 through Facebook, Instagram and Twitter.
Please Contact Us To Organize Your Opportunity
Phone: 212-725-3541
Email: [email protected]
Who Makes NYC Run?
As authors of the book What Makes NYC Run?, the League is an authority on the inner workings of NYC government. This presentation focuses on the role of local and city-wide elected and appointed positions, including the job of a Mayor, Comptroller, Public Advocate and the responsibilities of City Council members and Borough presidents.
What's on the Ballot
Before every election, invite the League to answer your questions about who and what to expect to be on the ballot. In 2022, races will be: US Senate, US House, Governor, State Senate and State Assembly. Voting will take place in June and August for Primaries and November for General Elections
Redistricting 101
Participants learn how the congressional redistricting took place in New York State, and the impact it will have on local communities and resources.
Women's History
Hear an overview of suffrage for women in the United States, including the many "Erased Suffragists"; leaders in the movement but lost to history because they were women of color. We highlight the obstacles that have been put up (and overcome!) to limit minority individual's active participation in American politics.
How to be a Citizen Advocate
Learn how the League's Voting Reform activities have made an impact on the voting laws in New York State, and how to adopt these practices to advocate for an issue of importance.
Get-Out-The-Vote
New York City continues to rank among the lowest in voter turnout across the country. This presentation discusses the specific hurdles and challenges facing New York City voters. It outlines concrete actions that advocates and volunteers can take to encourage our fellow citizens to come out to vote.
Trivia!
Duration: 45 minutes
Engage your employees with a challenging game of New York City History and Voting Trivia. This 3-round competition
is a great way to build teams, and provide information that lasts a long time.
Help The League Register New Voters
Duration: 2 hours with travel
How does it feel to register a new voter to vote for the first time? Euphoric – for both the registrant AND the person doing the registration! Your employees could feel that elation when they visit a NYC high school to help register and pre-register seniors. Employees would be guided by on-site LWV staff and equipped with voter registration materials and the ever-popular "I'm a Registered Voter" stickers.
Get Out The Vote! (Postcarding or Flyer Distribution)
Duration: 2 hours
Reminding voters to vote… works. The League can guide your employees to craft non-partisan messages for flyers and postcards. As the League is non-partisan, the League only mails reminders to non-affiliated voters (not affiliated with any political party) encouraging them to vote. The League also prioritizes voters in districts with lower voter turnout rates. Or your employees could be assigned to a NYC neighborhood to post flyers that
remind and direct voters to their polling site.
Share The Constitution
Duration: Half-day including travel
Rally your employees to step out into the community and celebrate the foundational document of American Democracy! Constitution Day is September 17th – and everyone should have their own copy. Teams will be given nametags identifying them as League volunteers and pocket-sized booklets of the U.S. Constitution to hand out at a highly trafficked location (public libraries, college campuses, subway stations, etc.). Employees will be coached on document passages relating to voting rights and will brainstorm how to engage the public with these materials. You can create a competition among teams to see who hands out all of their copies first.
Voter Registration Training
Duration: 1 hour
Voter Registration events can be conducted by your employees and hosted at your offices to ensure all colleagues have access to the ballot box. Our Voter Registration Training sessions empower employees to set up their own voter registration program for your company or community. Trained employees will be able to answer questions about voter eligibility, registration forms, and deadlines for changing parties or updating registrations for new addresses and outreach ideas. This can include setting up registration tables in your lunch area, at the entrance to your office, or attending department meetings. Supplies provided include voter registration forms and the ever-popular "I'm a Registered Voter" stickers. We also regularly coordinate with other Leagues in New Jersey and Connecticut to enable employees residing outside of New York to participate.
Election Information Service Training
Duration: 1 hour
Each election season the League responds to thousands of inbound calls to answer questions regarding absentee ballots, early voting, registration status and more. Your employees can be trained to answer questions and then sign up to be part of this telephone service to impart this important information.
contact your elected officials